A few snippets about us
Stourmouth seems oddly named now that the River Stour is several miles upstream at Pegwell Bay. However, in the days when the village was named, this was indeed where the river met the sea. The Stour flowed into the Wantsum Channel which separated the Isle of Thanet from the rest of Kent. In Roman times Stourmouth was probably under water but the waters gradually drained and the Stour came to follow its present course. The land eventually became suitable for cultivation and settlement. During the Middle Ages Stourmouth must have seemed like a coastal village as ships sailing to and from the port of Fordwich near Canterbury would have passed by on the Stour. However, the channel silted up and by about 1500 Thanet was an Isle in name only.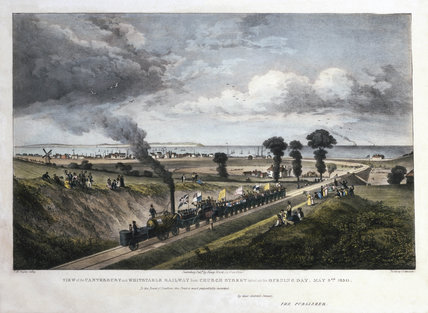 Thomas Mann Baynes (1794-1854) - Important pair of coloured lithographs -
"View of the Canterbury and Whitstable Railway from over the tunnel, taken on the Opening Day, May 3rd 1830" - Showing panoramic view of the City with crowds gathered on banks to foreground and numerous figures in coaches on railway, some carrying flags, and "View of the Canterbury and Whitstable Railway from Church Street, taken on the Opening Day, May 3rd 1830" - Showing locomotive "Invicta" and filled carriages with Whitstable to background, printed by C.Hullmandel, and published by Henry Ward, 14 Sun Street, Canterbury, each signed in ink to bottom right-hand corner by Robert Stephenson.
The Canterbury & Whitstable Railway opened 1830 was the second public passenger railway in the world (the first being the Stockton and Darlington), and the first to carry passengers by steam. However, there was only one single track. Locke and Dixon were the engineers under the direction of George Stephenson. Robert Stephenson & Co made the locomotive "Invicta", which hauled two trains at the opening. After the sale of the "Invicta" in 1839, the line was worked with stationary engines before experiments were made with the Atmospheric system.
The Canterbury & Witstable Railway was purchased by the South-Eastern Railway in 1853 and the line closed in 1931. Robert Stephenson attended on the opening day and was guest of honour at a dinner for over 150 held at The Kings Head Hotel, Canterbury. Mr Robert Stephenson wrote on 6th May 1830 "I returned from Canterbury on Tuesday. The opening of the Canterbury Railway went off remarkably well without a single mishap".

We are proud members of the P.B.F.A.
Founded in 1974, the Provincial Booksellers Fairs Association, or PBFA, is a large association of second-hand booksellers. The association organises over 70 fairs of second-hand, collectible and rare books in the UK each year. These fairs include various 'premier' fairs such as the York Book Fair, London Book Fair and Oxford Book Fair.